There's no place better to escape the city than the Dandenong Ranges. Just a short drive from the Melbourne CBD and you'll feel a world away surrounded by lush greens and ferns, towering ash trees, brightly blooming florals and native birds everywhere. No matter what season you visit, there's always something in bloom and a sanctuary of green to get lost in.
In fact, the region is so green it's the home of two festivals dedicated to the love of gardens and nature, the Cloudehill Gardens Festival of Flowers, typically held over a weekend in early March and the Tesselaar's KaBloom Festival (late March to early April), both well worth attending if you time your visit right.
What's equally convenient is that these gardens are all located within a few kilometres of each other so that once you arrive, everything is within easy access.
Leave Melbourne and go straight to one of the region's most loved places, the Alfred Nicholas Memorial Gardens in Sherbrooke (pictured below). Follow the winding paths down to an ornamental lake and its photogenic boathouse. There are waterfalls, plenty of native flowers and birdlife and even the local echidnas have been known to scurry across the walking paths. Here you'll find plenty of areas suitable for a picnic lunch or BYO morning tea. There's public parking across from the garden entry, bathroom facilities and dogs are even allowed on a lead.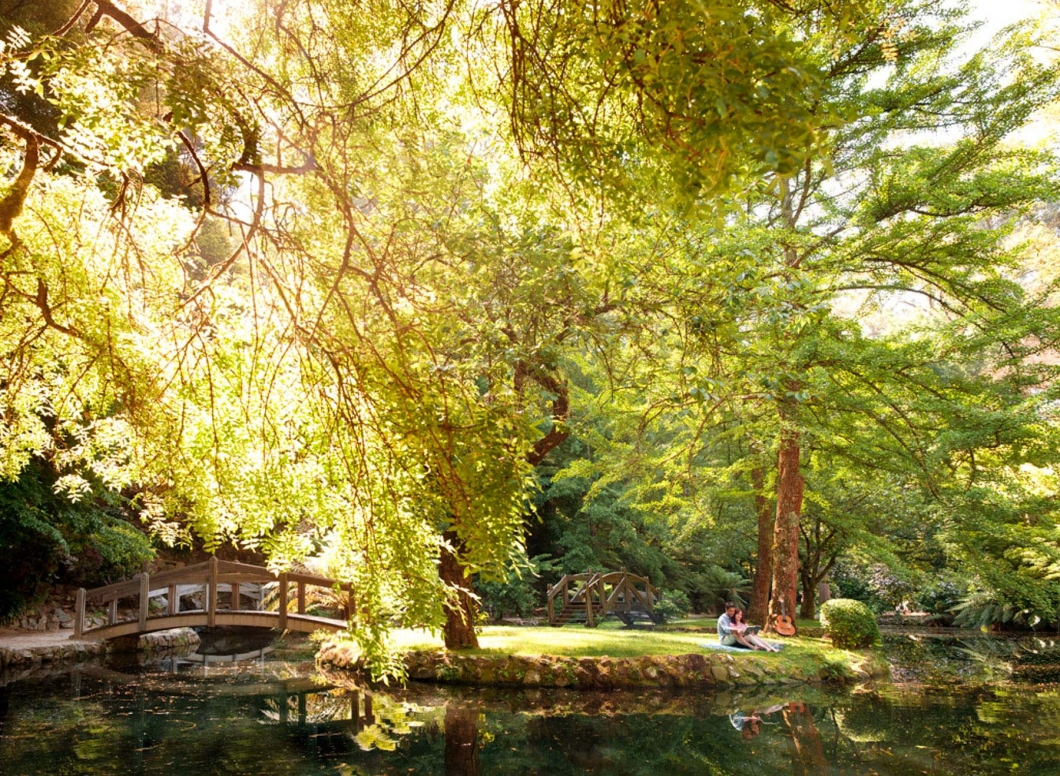 The historic garden is open daily from 10 am to 5pm and it's full of vibrant foliage and greenery as well as tall, shady trees that make hiking through this area cool even during the summer months.
From here, it's just a short drive to Cloudehill Gardens in nearby Olinda (pictured below). A must-see location in the Dandenongs, and if you're a Diggers Club member, entry is free. If not, a $10 fee will allow you to stroll through an oasis of more than 20 beautifully manicured private gardens and lawns as well as enjoy garden sculptures and artworks. There's also an onsite Diggers Club Nursery where you can get inspired and stock up on supplies for your home garden.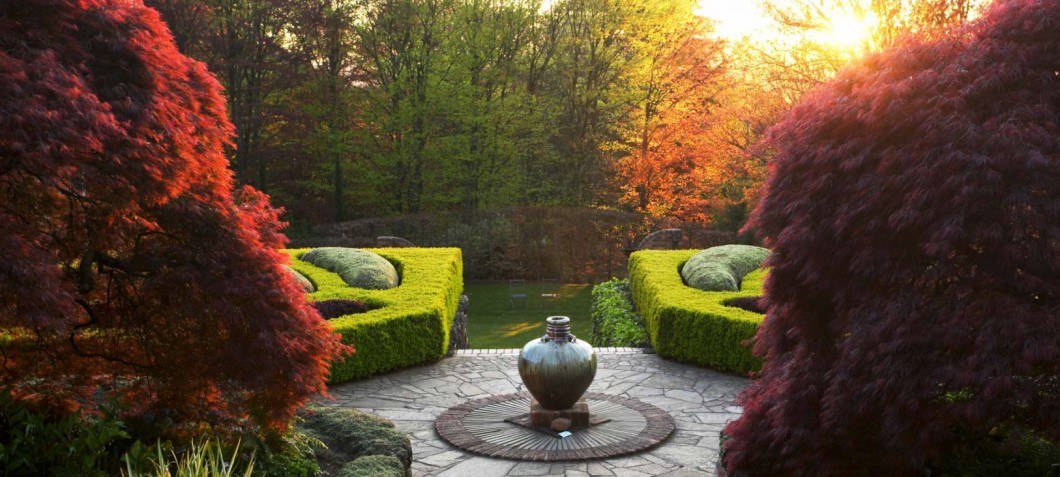 Cloudehill Gardens often hosts a variety of special events, workshops, expert talks and more. Visit the website to check out their upcoming schedule.
Warm up with a late lunch or afternoon high tea at the on-site Seasons Restaurant overlooking the picturesque gardens. As a licensed venue, you can enjoy not just some of the freshest, locally-sourced produce from the Yarra Valley and Dandenongs region, but a wine list curated from local wineries too.
If you're keen for a little more and it's not yet 4 pm, pop into the lesser-known but equally as beautiful Pirianda Gardens, also in Olinda. The 11-hectare garden features a wide variety of botanically imported trees and perennials and a zig-zag pathway to a gorgeous lower garden full of colour and thick mosses all year round. The once-private garden is now managed by Parks Victoria.
It's a favourite spot for those in the know looking for a stroll amid the pink and purple Japanese maples, exotic florals and ferny gullies. It's also a favourite among photographers, birdwatchers and those looking for a healthy walk in the fresh air.
From here, head back to Melbourne or check into any number of accommodation options and garden retreats in Olinda.
Make it a weekend
Recently opened, the Chelsea Australian Garden at Olinda is a permanent display, featuring an enormous Waratah sculpture, waterfall and billabong. Over 15,000 plants have been used in the design, with over 400 different Australian species (pictured below).
Wander around the sealed paths and discover an amazing variety of building materials, plant shapes and beautiful vistas. Sit and listen to the frogs and birds and bring a picnic and enjoy the spacious lawn next to the stunning Boab trees.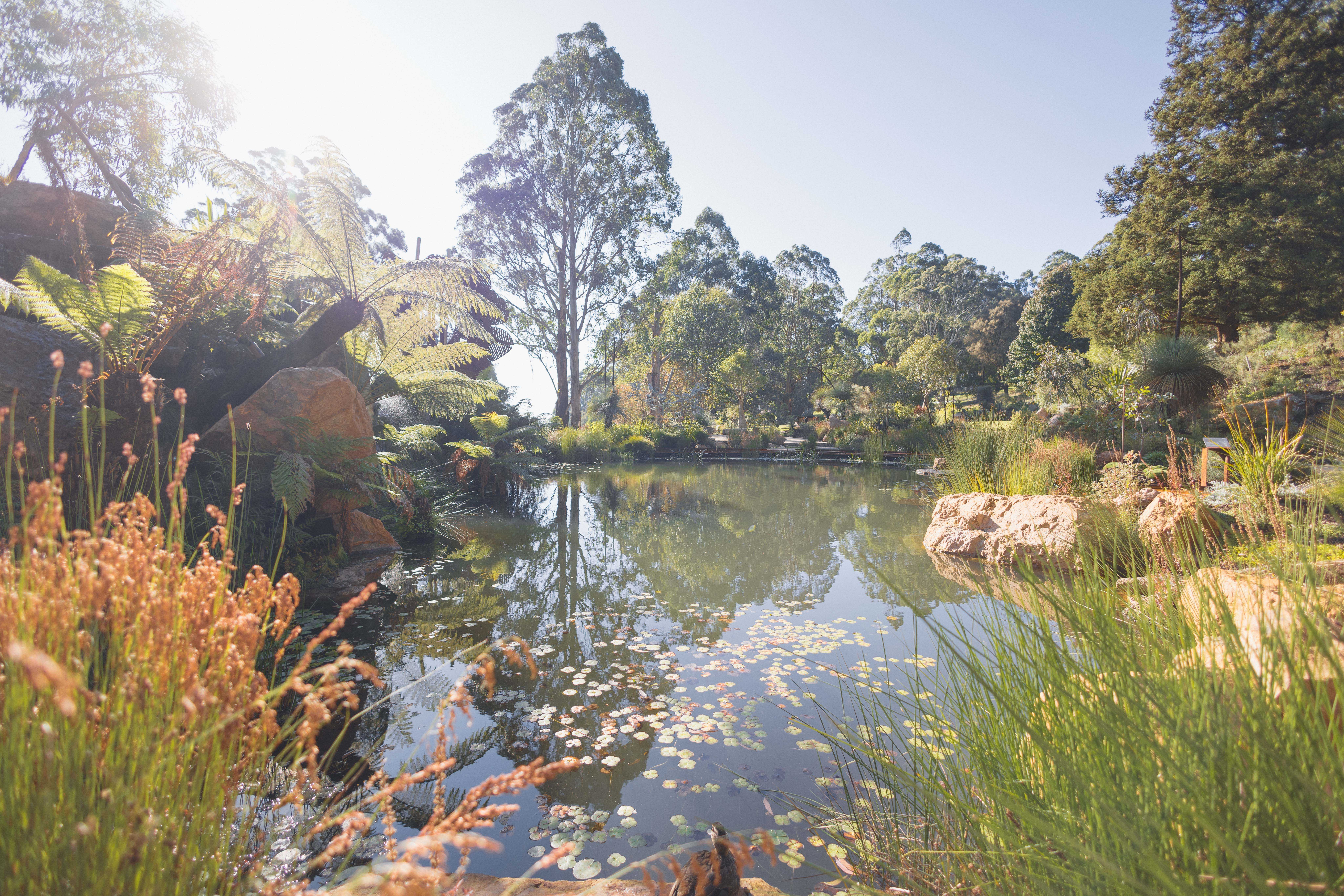 Built on an unused grassed area of the former Olinda Golf Course, this feature enhances the environment by introducing additional rare and endangered plant species and providing more native habitats for plants and animals. The garden also provides a fantastic opportunity for locals and tourists to connect with Australian nature and learn about native plants and sustainable landscape design.
You can also stroll through the Dandenong Ranges Botanic Gardens, also in Olinda. Once known as the National Rhododendron Garden, this beautiful retreat from the hustle and bustle is the perfect place to hike through a host of beautifully coloured (and scented) blooms or leafy autumn foliage any time of year. Bring your binoculars as the birdlife here are abundant.
Following your wander through the Botanic Gardens, grab a hot cuppa or a lite bite from the onsite Café Vireya overlooking the scenic spot.
Drive time: From Melbourne to the various gardens and home will have you on the ground for roughly 2 hours and 30 minutes.